POST-X-DAY II
The implications are just now sinking in, and the SubGeniuses of Earth are dealing with it just like we deal with everything else -- by bullshitting about it endlessly.

Disaster at Brushwood (Modemac's X-Day Report)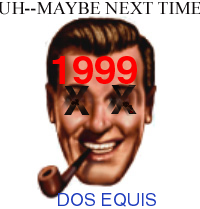 X Day X Cuses -- the complete LIST
X-Day X-Cuses, or: THE WORLD ENDED YESTERDAY AND YOU'RE ALREADY DEAD!

X-Day--just like it was foretold
X-Day: A Study In Rupture
Did anyone else see the giant 'X' over Brushwood 6:40am 7/5/98?
Things I liked about the End O' The World

MYSTERY of STANG'S MISSING HAT Solved by IrRev. FRIDAY JONES

Illustrious Photographs of X-Day Adventures by:


Dr. Craig Mitchell-- frames glabbed by Stang:

The BATTLE of ARMAGEDDON / THE NAKED BOBTISM / BLOOD WRESTLING

YET MORE X-DAY PHOTO COLLECTIONS:


Bureau of Control II
Rev. Christopher Lee
Atom Funway


EINSTEIN'S SECRET ORCHESTRA shot by Stang

A SUBGENIUS COMIC BOOK STORY BY DR. LEGUME

Re: X-DAY 98 MASTER EVENT LIST revised



Sis Decadence's X-Day report
THE RANT OF POST X-DAY HYPER-SUBGENII!!!!
There really IS a clique

UFO over X-Day??
Why Andreux Rabbits For The Church (Was: Church of the New Order)
Xydexx's Two Cents On X-Day...

X-Day SubGenius IRC Devival session (Sun July 5 98)

SOUR GRAPES
"Bob" still wants your cash!
Ask the SubGenius Answer Man
Fear and loathing in brushwood(or the true story of the shit in the hottub)
Hobbies of the SubGenius
I got trichinosis at X-Day
New Morology (was: Re: I got trichinosis at X-Day)
It's 6663, not 6863, YOU ASSHOLES!!!
Pathetic Bob Dean
PXDS - Post X-Day Syndrome con't.
Weaned from the Tits of Stang!
Re: New X-Day Photos in ABS
Re: Stang is ugly (The brag of the UGLY SubGenius)

OTHER X-DAY WEBSITES

Papa Joe Mama's NEW HOLOCAUSTAL site:
http://members.tripod.com/~Papajoe666/rant.html
A COUPLE DOZEN GOOD SHOTS with commentary from: amartin@deccxx.zko.dec.com (Alan H. Martin) aka Rev Carl X aka Bureau of Control
http://www.vermilion-sands.com/subgenius/xdaypix.html
Rev. Chris Lee's page of Miss Sakamoto's portraits from alt.slack.village
http://members.tripod.com/~QuijiboCartel/xdaypics/picsindex.html
The Death Equinox 98 (con in Denver w/ guest Stang, Oct 1-4):
http://cyberpsychos.netonecom.net/death-equinox/
All graphics on this page are by IrRev. FRIDAY JONES (except Dos Equis, by Dr. G. Gordon Gordon)
WE WILL BE BACK FOREVER
BACK to SubSITE Main Page -- Back to X-Day Is Coming section -- Back to UPDATES -- Back to Upcoming Devivals -- Back to POST-X-DAY Part One