If you have NO EARTHLY IDEA what this X-Day thing is all about, maybe you'd better take this quick illustrated CRASH COURSE IN SUBGENIUS DOCTRINE 101 (aka Pamphlet #1)
GOD DAMN IT!! THAT BASTARD DOBBS!!
FIRST POST-X-DAY REPORT!! (7-15-98) (We had HOPED to AVOID this)
YET MORE, GREATER POST-X-DAY REPORTING, PICS and SPECULATION! YOU'LL PUKE WITH THE THRILL OF IT ALL! (8-6-98)
The rest of this section was all done prior to X-Day 98, when we were perhaps a little more optimistic about this one pivotal fulcrum element of Dobbs Prophecy. But HEY -- so what if Dobbs fucked up ONCE.

CONSIDER IT ALL STILL GOOD FOR NEXT YEAR! We've already booked Brushwood for X-Day 99 -- DOS EQUIS!!
All About the Final Gathering at Brushwood
How to Get to Brushwood, Sherman, NY
IMPORTANT LAST-MINUTE UPDATES re: TRAVEL and X-MOMENT DETAILS (June 22)
Rev. Stang's Farewell Rant (from THE 'LAST' STARK FIST)
Incredible Prophetic Sci-Fi TALES of X-DAY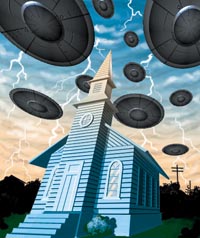 IMAGES OF X-DAY
The complete collection, now conveniently thumbnailed, of terrifying visionary art depicting X-Day. Dioramas by Poindexter, LeMur (aka Fernandinande), Atom Funway, Stang, Nenslo, The Prophet Jim, many more!
(NEWCHURCH (left) by NENSLO)
MIGHTY NENMASTER
NENSLO'S X-DAY PROPHECY

TURMOIL: Speculation, Prophecy, and Doubts about X-Day
from alt.slack
Sure and Certain Signs of the End Times
Fallout from the June '98 Final Church P.R.Blitz
Including BOB LARSON vs. the Church!
X-Day and Heaven's Gate -- The Connection?

Download Lamprey System's X-Day Game
The X-DAY INVASION SURVIVAL TRAINER (1.2 mb -- MAC ONLY!)

HOW TO GET TO BRUSHWOOD FOLKLORE CENTER in SHERMAN, NEW YORK and general details like PRICES
Willing to share or needing rides? Scope out
MODEMAC'S X-DAY RIDES BOARD
http://www.tiac.net/users/modemac/guestbook/rides.html
A Message Board for arranging transportation of all sorts to the END OF THE WORLD at Brushwood Folklore Center (Sherman, New York) -- post messages asking for or offering rides to X-Day.
OR
Rev. Jim Jack Jonez" <rev_j3@biosys.net> has put up a SECOND rideboard at
http://revjones.hypermart.net

X-DAYVERSIONS
This gruesome short story by IrRev. Friday Jones, set in post-X-Day Earth, vividly illustrates why it is so important that you send in your $30 Membership dues.
Dr. LEGUME'S PERSONAL INVITATION TO YOU TO ATTEND THE OFFICIAL X-DAY '98 GATHERING!
For an example of just how bloodthirsty a SubGenius can get, see:
The Holocaustal Homepage
The SubGenius Foundation, Inc., is not responsible for this website; we offer this link strictly as an example of what we consider TOO EXTREME.
DETAILED, LURID PHOTO REPORTS ON PREVIOUS X-DAY DRILLS at BRUSHWOOD -- 1996 and 1997
BIG TEATED WOMEN NEEDED FOR X-DAY
A desperate plea from Rev. Stang to his fellow Ivangelicals.

The Farewell Video
Send in your segment soon!
Your Last Will & Testament
You will be asked to sign one of these if you attend any official X-Day ceremonies.
EARTH FIRST
The raw script of Rev. Stang's End Times devival sermon
"Bob's" Endtimes Message for You
Dobbs Himself Speaks -- TO YOU!

Where Will You Fly Your Saucer?
IrRev. Friday poses the question, and the SubGenii of alt.slack provide some revealing and SICKENINGLY BLOODTHIRSTY answers from the very cores of their beings!
MASCONPROG to launch: ALL SYSTEMS GO!
BIGGEST SUBGENIUS DEVIVAL EVER!!!
SAMOAN DEVIVAL ANNOUNCEMENT!!!
SLACKBANGERS
-- X-DAY MUSIC ONLINE from KING OF SLACK Bill T. Miller's new KILLER TRIO!
X-DAY-ers
Stang and Jesus speculate about some post-X-Day drawbacks in this excerpt from a Sunday Night IRC Chat devival.
The Book Of Lilith (Chapter on SPUTUM Prophesy) from Popess Lilith
The Church Needs More Sacred Prostitutes!
Lest We Forget -- a quick reminder from IrRev. Jones.

The Truth About X-Day! The End Times.
1998: Year of Destiny!
(Links to Tex Marrs site)
Historical Psuedo-X-Day of Yore discovered by Dave Lynch
The original rants from the Heaven's Gate website by Do!
Stang Rant re: Ignorance of THE WAR OF THE WORLDS
John F. Winston's "Man Who Contacted The Space People."