X-Day will be VERY different this year!
1) It won't just be a Drill this time
2) The live in-person event has grown to TWO sites: our usual Ohio campground, Wisteria, but also a NEW (to us) resort campground in Florida!
3) It will also be streamed live, which is how it happened last year with great success.
Yankees and others who treasure hanging out with old friends at Wisteria (and are too far from Florida) can do so just like in the old days! Those who want to try the Florida one, SIGN UP QUICK because only 50 can attend and 25 have already signed up. (Also, the Florida one is a bit more expensive.)
Those who will await the Saucers at home can attend virtually just like last year. Up to fifty people attended that and it was a lot of fun. The Florida event will be live-streamed separately. The Wisteria one might be streamed, IF the wifi and phone service improves in that locale.
The Florida event is at Land of ID, a clothing-optional campground in Land of Lakes, Florida, and is being organized by the folks at Hypercube: https://hypercubego.com/XDAY2021/
ALL of the Florida X-Day details are there.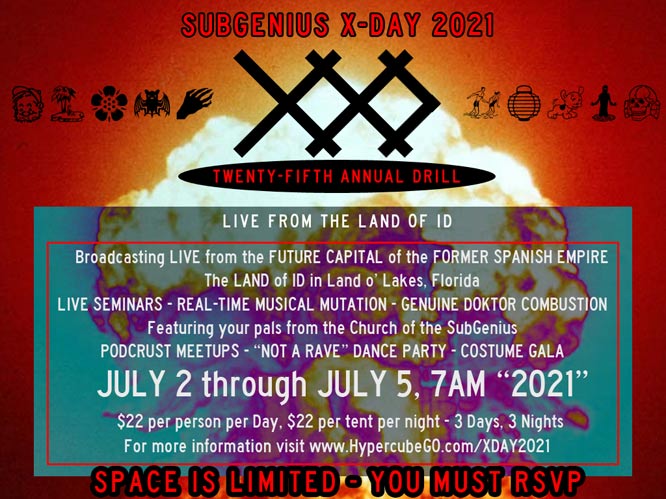 Rev. Ivan Stang will be at the Florida one only (and possibly Dr. Philo Drummond and Dr. Hal likewise). Also expected there: Hypercube Labs, TTN, Danny Feedback, Trotskys Watercooler, Rubix Pube, SubG Kids, Negative at Night, Anna Barnes, Wyld Bill, Supershere Media Empire, Elvis Martini, Lord Ferg and peas. Virtual Acts will include Alcheministry Labs, The RATHOLE, Bill T Miller
FREE YouTube Livestream July 4th-5th at live.packslack.com
ALSO: Official X-Day Facebook Page
WISTERIA, OHIO DETAILS: KEEP SCROLLING!
So, far, no one has stepped forward to organize the Wisteria gathering, but then, this is the first time we've mentioned it. Basically all of the Ohio event info (so far) is the same as in previous years. The decorations and the huge pulpit are already at Wisteria, locked up since 2019 with the Starwood Festival stuff. However, Stang won't be there to set up his ancient sound system or anything else. We're hoping some other X-Day old-timer can step up.
(At 67, Rev. Stang can still travel, and run his mouth, and run a holy mail order business, but after 26 X-Day Drills and countless devivals, he can no longer TOTE, or drive long distances.)
*Yes, we know that Hypercube is calling this the 25th Annual Drill. We don't know why. Maybe it has something remotely to do with the way Dr. Faux's name is actually pronounced NOTHING LIKE IT IS SPELLED.
If SubGeniuses were Normals, X-Day Drills and such would be held in Holiday Inn conference rooms. Like the gamers do. Like the sci-fi fans and the comics fans do. Like the Scientologists, Mary Kay sales people and the Grace Glory Baptists do.
But we are SubGeniuses, and X-Day is not a convention. IT IS AN ADVENTURE. A SURVIVAL TEST!!
It might be brutal at times. CORRECTION: it WILL be brutal at times.
But those times are exactly what make for the CONTRAST. They make the heights ever so much HIGHER. And, sometimes, when two SubGeniuses get stuck under a borrowed tarp in a rainstorm, and fall in love, and get married, and have kids, and get a divorce, THEY STILL COME BACK TO X-DAY.
Sure. You might meet your True Yeti Mate or have your peak experience at a comics con in a motel. But it will not be an ADVENTURE. It will not be THE ETERNAL STRUGGLE OF MAN AGAINST NATURE, AGAINST THE VERY ELEMENTS, AGAINST, YES, GOD ITSELF!! JEHOVAH ONE! ARE WE TRULY BUT SPACE PUPPETS?!? NAY, "BOB" SAYS, NAY!!!