RESTOCKED 5-2000
LATEST NEW SUBGENIUS ART THANG:
THE SUBGENIUS ART FORUM at RENDEROTICA.COM
Graphics fiends -- ADULT graphics fiends -- will love this whole site, and users of Poser for nefarious purposes will perchance fairly SWOON. (You'll have to "register"; then, look under FORUMS in Renderotica, for SubGenius Art Forum.)
Meanwhile, over to alt.binaries.slack, they're extracting the art ore faster than we can process it into JPEG thumbnails for industrial use!
The wheelbarrow-racing maniac monks have kept posting to alt.binaries.slack, and the Holy Email Hole, RELENTLESSLY, FEVERISHLY, SLEEPLESSLY, SINCE BEFORE X-DAY 1998.
For now, this MERE SMATTERING will have to suffice. I, Stang, didn't even get to half of the main artists before the Church hard drive and storage space LITERALLY RAN OUT!

I am now trying to add them an artist at a time. This month's long-overdue featured Art Shoveller: The "MISTERious" MISTER SISTER!

And, while I did manage to thumbnail and upload a good TON or two of art by the incredibly productive a.b.s. superstars IMBJR and LeMur... IT'S LITERALLY ONLY ABOUT A TENTH OR LESS OF WHAT THEY'VE DONE THIS PAST BI-YEAR!
In their cases, I just grabbed the FIRST few hundred files and the LAST few hundred. The way this random sampling is NUMBERED should give you a pretty good idea of just how much MORE we have to deal with... I also had room for only half of GGG's psycho robots.
Those of you arteests who didn't get shoveled out into THIS tunnel... give us Slack. Jes' a wee little while longer.
There are a couple of dozen artists who have posted less than a dozen pieces since 98... I managed to cram ALL of these into two Holy Archives:
MISCELLANEOUS GREAT FAMOUS SUBGENIUS ARTISTS (A through L)
and
MISCELANEOUS GREAT FAMOUS SUBGENIUS ARTISTS (M through Z)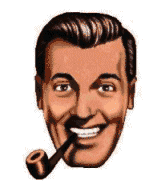 And here they are, SOME LONE MIGHTY MASTERS:
new: MISTER SISTER
Dr. K'TADEN LEGUME Archive 2
Dr. K'TADEN LEGUME Archive 3

G.GORDON GORDON Archive 1
G. GORDON GORDON Archive 4
IMBJR-
IMBJR-savebob (from his early days on a.b.s.)
More recent IMBJR:
IMBJR-26
IMBJR-28
IMBJR-33-34

(Coming soon: the complete IMBJR GIF-movies stash!)
and now...
A FERNANDINANDE LEMUR mere-sampling:
LeMur (around June '98)
LeMur06
LeMur17
Lemur25
LeMur35 (late '99)
NEXT: HITLER... GOD... FRED C. DOBBS... AND MANY MANY MORE!!
Thanks to S.P.U.T.U.M. and alt.binaries.slack (see Art Faq)!(ARTISTS -- if I missed something that you think should be here, email it to me! Just don't send more than about a meg's worth a day.)

Animation at top is by Rev. P.A. Sound; rotating Dobbshead in middle is by Fred C. Dobbs; borders are by IrRev. Friday Jones
Don't miss the amazing BOBCO SYMBOL FONTS!

And now... presenting... for the first time on the World Wide Web...
SELF PORTRAIT BY J.R. "BOB" DOBBS!!