THE STARK FIST OF REMOVAL

ISSUE # 02-2000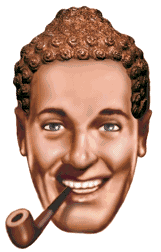 AND SO we begin the NEW SUBSITE.
Don't panic, Old SUbSITE is still there. We WILL be gradually removing chunks of it from the Web. But if you're concerned about missing one of the 9,000 files, you can now BUY Old SubSITE on CD-Rom.
Right now we're more concerned with our PRIMARY MISSION, our IMMEDIATE focus, which, just in case any of you faithless backsliding slack-abusers have FORGOTTEN, is to PRAISE GOD DAMN "BOB!" And anybody who has any OBJECTIONS to that can just stick their heads where Mister J. R. "Bob" Dobbs DOESN'T CARE TO LOOK.
If you have any doubt, if you're in need of a good "slap in the faith," so to speak, if you need to once again GET RIGHT with that man "Bob," then TAKE A GANDER AT THIS PICTURE (thanks to Rev. Freeman for the research!)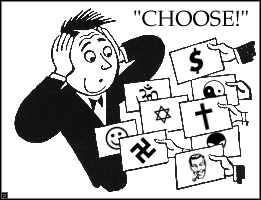 Hey, Subs! ...(and you lurking Normals)... Quotestream is a cool FREE news service that will scroll personally customized news as it happens. You can customize it very specifically to monitor your own special branches of the Conspiracy,to get instant UFO invasion news, or to be alerted in the event of major scientific "discoveries" such as Yeti capture. Best of all, we get big bucks just for you looking at their site. - Thanks for clicking. JC
ADULTS ONLY: earn the Church $ per click by checking out these two SPECIALTY PORN SITES:

XXXSPACEGIRLS.COM

and WWW.HORRORSEX.COM
DO YOUR PART FOR DECENCY! KEEP THIS SICK PORNO BANNER OFF OUR HOLY RELIGIOUS WEBSITE for only $250/month! Or rent your own ad space to replace it. Write to jesus@subgenius.com for details.





If you have a complaint with this site, shut your yap, or join the ranks of SubSITE SLAVES: I, Stang, Jesus "Steve" Christ, IrRev. Friday Jones, RevBroVT and our new staffers, Rev. Boddhisatva Troutwaxer and the lovely and deadly EVANGELA!
Buddhaic "Bob" by H.H., the 8th Atom Funway; other art this page by IrRev. Friday Jones.