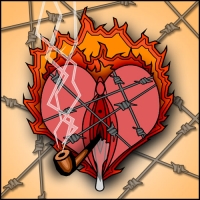 Above: art by Heart Ignition
Ancient news continues further down this page... but the absolutely MOST "NOW" breaking SubGenius Foundation news and spam is NOW HERE NOW:
NEW Stang Rants DVD, Vol. 21 of "12 Hours of Slack in MP3" in catalog
We just added new Hour of Slack 1011 to the downloadable archives.
---
OLD-SCHOOL NEW NEWS from before the blog was instituted (3-12-05):
MONTHLY ALT.SLACK ARCHIVE! Thanks to Saint Fenian & Rev. Paco:
---
---
I, Stang, have been cranking out Hours of Slack, preparing new video and audio collections, completing the Church HQ's official move to Cleveland, and TAKING CARE OF BUSINESS.
---
The SubGenius Store at CafePress.com offers much NEW SWAG. NOTE: the ORNAMENTS (SubGenius Jewelry) are back in the Cafepress SubGenius store -- they're seasonal -- and we are now able to offer many new products and designs, including fancy framed prints, cheesy fridge magnets, and, yes, believe it or not, Dobbshead-emblazoned DOGGIE and BABY CLOTHES.
HOUR OF SLACK Vol. 16, 17 and SubG MP3 STASHES on CDR -- even OGG!
It was HALLOWEEN ... when we the SubGenii wear our masks on the INSIDE for a change. Besides the scary-face art, we also offer cute photos from last year's Halloween in Dobbstown -- and now, new, HALLOWEI'EN 2004 pics from the Slackermansion
This Halloween, the REAL horror is not the people disguised as monsters, but the monsters disguised as people. We're talking about the presidential elections. To help ease the dread, we've archived October's bountiful harvest of bulldada art from alt.binaries.slack -- eye-blowing brain-porn to keep you from thinking about IT. HOUR OF SLACK also has some election-based horror this week.
The Steve Chekey Memorial Museum of Weirdness
Some bad news: Rev. Steve Chekey died. New news: there was an ESTATE SALE -- probably the most bizarre estate auction anyone has seen in Northen Ohio in a LONG TIME. Friends of Rev. Chekey will enjoy seeing some photos from his amazing house as it was before his death, and the strange and appalling spectacle of it all being auctioned off in his field.
TEXAS PAGAN-SUBGENIUS PHOTO-ILLUSTRATED DEVIVAL REPORT!
HUGEST NEW SECTIONS EVER: ALL of last year's art and photos -- ALL -- are now firmly ensconced in PAST DEVIVALS and ART MINES TUNNEL 20. Devival photos and reports include 7X-Day, the Frop Cup in Amsterdam, two London shows, Cleveland, Detroit, AIEEE! But the ART... GREAT DOBBS, get a GRIP on yourself; Tunnel 20 contains not only the NEW work of DOZENS of artists, but also has: SUBGENIUS COMICS! CLASSIC ART from our books! WEIRD HISTORICAL PHOTOS and scans... TATTOOS, PROPAVANDALISM and PROOF OF DOBBS.
Last month we added the STARK FIST ONLINE 2004, now CRAMMED with A YEAR'S WORTH OF CAREFULLY SELECTED AND CATEGORIZED SUBGENIUS WRITINGS, NEWS, DOCTRINE! Everything from movie reviews through the War Thing to grotesque health tips, and every possible manner of rant and diatribe in between. Some might even provide a chuckle or two! (We opened up part of the kooks section to the public.) Also includes:
MOST EYE-PEELING GRAPHICS GALLERY YET:
SubGenius Art 2004. These should keep you busy for a few days.
DOBBSEDELIASTESES
Indoctrination Film #7
(And other new videos.)
Hell, don't even read about it... JUST BUY IT, NOW!

ALSO: The entire edited new 6X-Day documentary is now available, as is a new CD of Rev. Stang's performance at Starwood 2004, AND, FINALLY, THE LONG-AWAITED BLACK DOBBSHEAD T-SHIRTS!)
DO YOU DOUBT? Here are some new pages of FRAME BLOW-UPS from Dobbsedeliasteses, 6X-Day, and the 5X-Day video of yore (also available in our Bulldada Time Control Laboratories catalog.
ALSO -- 22 NEW BUMPER STICKERS and a dozen OFFENSIVE NEW BUTTON DESIGNS, along with the return of the SubGenius HATS and HEADWAREZ at our SubGenius Store.
We have also started editing 7XDay and revising older videos. We have continued to post copies of the new videos as they're finished to our Usenet binaries groups for free download by poor but clever SubGenii.
COMPLETELY ASTOUNDING REPEATING NEWS:
If you hadn't already heard, DON'T FREAK OUT -- but THE AUSTIN OFFICE MOVED! There is now no longer a SubGenius main branch in Texas! -- although there will be again in exactly 5.5 years. Stuff sent to both the Austin and Dallas P.O. Boxes is still being forwarded, but won't be forever. To make a long story short, DURING THE 7-X-DAY DRILL, Business Managers Jesus and Magdalen moved to Columbus, Georgia, and are still busy re-building shop in this strange, new, but probably less doomed land. In the meantime, the luxurious Branch Clevelandian MegaFisTemple Lodge of Rev. Ivan Stang is the MAIN OFFICIAL HOME OF THE SUBGENIUS FOUNDATION, INC., and the operational HQ is his and Princess Wei "R." Doe's Slackermansion in Cleveland Heights. The new business address is:
THE SUBGENIUS™ FOUNDATION, INC
PO BOX 181417
Cleveland Heights, OH 44118
Some old news: 7X-DAY SHIRTS, Gizmos in catalog; FREE DOWNLOADS of X-Day movies, new SubAnimation premieres.
New PRODUCT LINE: BLACK DOBBSWEAR and BIZARRE TRUCKERS' HATS from ANTICONFORMITY -- DOBBS-APPROVED!
RETURN OF THE ONLINE SHORT DURATION MARRIAGE CEREMONY!
Thanks to fenian for the Java re-do.
NEW STUFF IN THE BULLDADA TIME CONTROL CATALOG! BobSongs 6! Media Barrage 2! Hours of Slack Volumes 12, 13, 14, 15! 69 Hours of Slack!
---

SAINT BUCKY DID THIS!
He's the one who changed the look of our humble website. As he puts it:
"Most of the site is now up to the standards of 1998, with everything still being written in HTML, no fancy php, asp, xml, cascading style sheets or anything yet. If you have any experience with the more modern techniques of web design, we'd love to hear from you. Any donation of time, money, or artwork would be greatly appreciated. A lot of the pages you'll encounter a few clicks "in" are old ones, however, and could use a little spiffying up." Contact Stang or Bucky for more info.
In fact, a few clicks in are THOUSANDS UPON THOUSANDS of sometimes painfully colorful pages, a vertitable coral reef of text and art which has been building up layer by layer since 1994, when The SubGenius Foundation went online. Consolidating this Collosal Beast of a website is an ongoing effort involving many SlackMonks and NunSnakes. This particular page, and the Events listings, have traditonally been the most out-of-control pages, and soon we hope to turn them into more of a bloggish area.
HIGH WEIRDNESS BY MAIL is BACK -- BY WEB! Thanks to Friar Synapse, we now have the URLS for all the kooks and visionaries who were written up in that pre-Internet book -- organized in the same categories, in the same order! For that matter, we redid ALL the SubGenius web links too.

ARISE! -- The SubGenius Movie, is now available on DVD from our catalog. This re-issue has been a long time in the remaking. Working from the original 1" video master tapes, we carefully restored this legendary video collage masterpiece to a better condition than it enjoyed in 1991, when the master was last worked over. (ARISE was distributed by Polygram in the early 90s, and was even in stores briefly --until Blockbuster went all "Christian" and had 800 copies returned en masse, resulting in Polygram basically dropping it like a dirty-bomb. For many years, only VHS copies and bootlegs have been available.) We carefully reworked and improved the sound, tweaked shots here and there, threw in a couple of Bushes and an Osama, and as many bonuses as the DVD size allows -- including a gorgeous Dobbshead meditation loop, the SubGenius Church commercial from 1990, and the brand new X-Day at Brushwood short. The interface is slick as snot on a doorknob, with little time-windows into each of the 27 chapters and bonus bits. ONLY $19.95. Click here for the catalog page. BUY NOW!!
---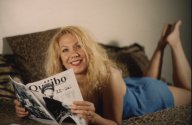 Have we mentioned QUIJIBO, the greatest SubGenius™ zine? (Yes, an actual PRINTED zine, like in the old days!) Send $5 to 18 W. Main, Greenfield IN 46140. Model: Barbie Geddyn)
http://quijibo.walkingdead.net
---
---
CHURCH NEEDS A NEW COMPUTER!
NEEDED: A GOD DAMNED G5 MAC! Or a used G4 would also do. The old G4 with new processor is overheating from all this video rendering..
AND YOU DON'T WANT THAT UPGRADE MONEY TO COME OUT OF "BOB'S" POCKET, DO YOU??? Are you SO CHEAP that you would thus STEAL BRAZENLY from "BOB," by NOT mailing us your spare equipment and the hundred dollar bills lying around, when you COULD?!? Who are you gonna give that crap to, your local charity, or your OWN kids, or YOURSELF?? Do you let THEM come before "BOB" in your life??
I didn't think so. I'll be expecting that delivery at STANG, PO Box 181417, Cleveland OH 44118 BY NEXT WEEK. Thanks. While you think about it, listen to this in RealAudio: I AM A SUBGENIUS (sung by Dr. Onan Canobite)... and DO THE RIGHT THING.
Be like the mysterious, noble GRIPTION CLENCH of N. Carolina -- who recently donated TWO 8X DVD burners, $200 and an Eminem CD!
THE STARK FIST OF REMOVAL 32 page printed zine has been FINISHED by guest editor St. Chris Li, of QUIJIBO fame, and will be printed and mailed to members the SECOND we have the necessary $2000. Which is why ALL SUBGENIUS FANATICS need to IMMEDIATELY LAY INTO "BOB" WITH ALL THEIR MIGHT, checkbook-wise, and BUY these BRAND NEW PRODUCTS THAT WE OURSELVES CAN MANUFACTURE IN THE CHURCH RUMPUS ROOM, AND DON'T HAVE TO PAY ANY CONSPIRACY PUBLISHERS, DISTRIBUTORS, MIDDLEMEN OR FACTORIES TO HELP CREATE.
To JUST PLAIN FLAT OUT DONATE $$ TO THE CHURCH is really the smartest thing you can do at this point. Watch the news for 5 minutes if you doubt that.
The miracle of CREDIT CARDS and PAYPAL have made it EASY!
DO YOUR PART! KEEP THE PIPE LIT!
THIS "UPDATES" PAGE has been being updated for several years now, and the previous layers of it form an almost geological history of SubSITE (though not of the Church itself, which has been public since 1980, and secret since 1953). The older Updates pages also form a loose "secondary index" of this gigantic website and an excellent pointer to the real highlights down through the ages.