GWAR Meets The Church of the SubGenius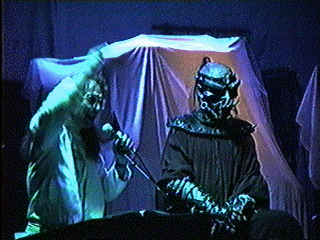 Rev. Ivan Stang and The Sexicutioner attempt to ram home the Word of Dobbs to the unheeding ears of the Bohabs.

Your dear host and prayer partner, Rev. Ivan Stang, has a new favorite band. Of course, I have a new favorite band every month, and it goes without saying that The Swinging Love Corpses and Drs. 4 'Bob' remain the all-time longdurpersavs. HOWEVER!! For you SubGenii who aren't familiar with GWAR, or else who tend to think of them as 'kid stuff' -- OPEN YOUR MIND, TEED!! GWAR is, like, TOTALLY BEYOND BUTT-HEIN!!
Seriously, these guys deserve a more appreciative audience than they have. What the average Bohab doesn't seem to understand is that GWAR is not JUST a bunch of monster-gods from beyond time who spray their audiences with the blood and sperm of the slaughtered, and who happen to play speed-thrash-metal with some catchy hooks, but is ALSO a SATIRE BAND not terribly far removed from certain aspects of SubGenius stand-bys like Zappa, DEVO, Rudy Schwartz Project etc. But who the fuck cares about justifying this stuff. All I know is, every time I watched them perform -- usually through the black and white viewfinder of a video camera -- I was JEALOUS AS HELL. WHAT A GREAT JOB!!
Furthermore, I now cannot get through a day without hearing at least 3 GWAR tunes played at top volume.
I know what you GWARheads want -- you want the BOOTLEG PICS and DIGITAL VIDEOS. Well, we've got enough of that stuff ready for you to FTP down into your own computer that you'll probably have to run out and buy a new hard drive. It's right here:
THE GWAR MEDIA COLLECTION
including a page of ready-viewable pornological concert photos.
For the more cerebral, curious, and morbid, the following articles (also illustrated with backstagey sorts of photos) describe life on the road with GWAR as experienced by myself and my evil pal, Rev. Steve ('The Son of Sleazy P.') Devilacqua.
---
The Completely True and Unabridged GWAR/SubGenius Tour Log
by Rev. Steve Devilacqua, Called Manager of the Sacred Scribe... complete with behind-the-fake-scenery pics!
How It Started:
THE MEETING WITH GWAR
Rev. Devilacqua recounts the arduous process of setting up the 'tour.'
Report on GWAR Tour in progress
Rev. Stang posts an update from on the road.
Stang GWAR Report
...in which Rev. Stang once again tells almost too much.
MISC. COMMENTARY on GWAR from the SubGenii of alt.slack & etc.