ANTI-SUBGENIUS PROTEST

FOR IMMEDIATE RELEASE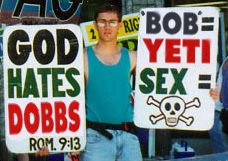 OHIO SUBGENIUS DEVIVAL LOOMS AS PRETENSE FOR COVERT ACTS
TO CREATE AN ALLEGED "RUSH FOR 'BOB'" MASS GATHERING.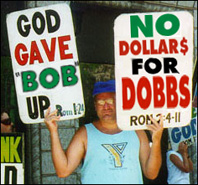 Cleveland, Ohio - Oct. 9, 1997

The Church of the SubGenius, a Texas-based self-proclaimed "cult", is making significant inroads into the Cleveland area. Composed of mockers and dedicated to blasphemy, the Church of the SubGenius presents a challenge to honest Christian beliefs.

The SubGenius claims of drugs, virgins, etc. serve only to entice impressionable youth into straying from the Christian path. Texas Christian churches observe that, after the Church of the SubGenius moves into town, church attendance among teenagers and young adults drops dramatically.

On October 7, Ivan Stang, leader of the Church of the SubGenius, will himself be present to oversee a Hallowe'en party / recruitment drive at the Euclid Tavern. It is time to send a clear signal to Ivan Stang, that his hate group is not welcome in Cleveland.

Please join us in protest rallies against the Church of the SubGenius, both outside and inside the Euclid Tavern.

--------------------------------------------------------------------------

Sordid details of a recent Devival, held in Atlanta this summer, and others can be found at:

Hidden under the heading NUDITYand DEVIVIALS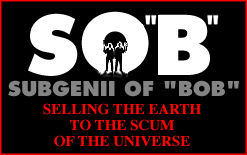 Additional information about the upcoming event may be obtained by watching these pages:

http://www.fringeware.com/hot/devival.html

Or calling the 24 Church Devival Hotline at (216)556-0338



Cult leaders Stang, Legume -- expose by Lt. Friday Jones, B.A.T.F.

ALL ARTWORK THIS PAGE: IRREV. FRIDAY JONES
Below: a photograph covertly snapped at the SubGenius's last so-called "X-Day Drill" shows a blasphemous burning cross. The man strapped to the cross is not visible in this picture. Thanks to "Popess Lilith" for the picture.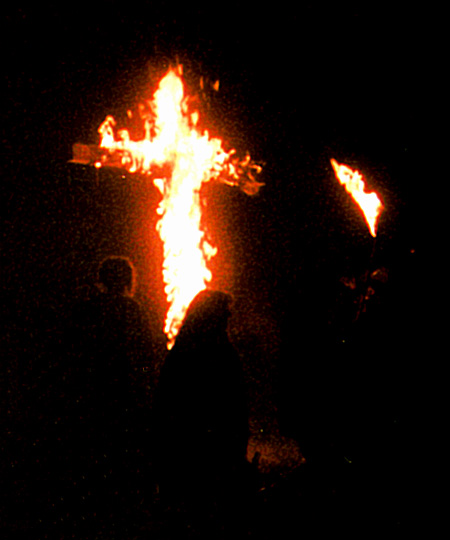 BACK TO UPCOMING DEVIVALS EAJOKEFUCKEMIFTHEYCANTTAKEAJOKEFUCKE
MIFTHEYCANTTAKEAJOKEFUCKEMIFTHEYCANT
TAKEAJOKEFUCKEMIFTHEYCANTTAKEAJOKEFU
CKEMIFTHEYCANTTAKEAJOKEFUCKEMIFTHEYC
ANTTAKEAJOKEFU