Austin Devival Press Release

FOR IMMEDIATE RELEASE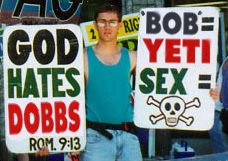 TEXAS SUBGENIUS DEVIVAL LOOMS AS PRETENSE FOR FRINGEWARE 5TH ANNIVERSARY IN AUSTIN --
GOVT OFFICIALS DENY COVERT ACTS
TO PREVENT THE ALLEGED "RUSH FOR 'BOB'" MASS GATHERING.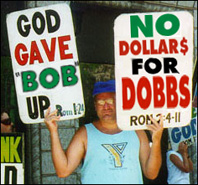 DALLAS, TEXAS - August 8, 1997

At a press conference held here today, officials from the Church of the SubGenius, in conjunction with an Austin- based media collective and quasi-militia organization known as FringeWare Inc., have announced heretofore covert plans to stage a "Devival" in AUSTIN, TEXAS on SEPTEMBER 13 of this year, beginning at or around 8 PM in a nightclub known as LA ZONA ROSA. Such events are considered highly illegal and subject to decisive intervention by the authorities.


"There will probably be a helluva a lot of inebriated strippers and plenty of extremely dangerous drugs there," Mr. Paco Nathan, president of FringeWare Inc., (and an alleged SubGenius), was overheard saying to some friends during the swank, three-hour press conference with Ivan Stang and other Church officials held at the Caberet Royale in Dallas this afternoon.
FringeWare is known to be celebrating its upcoming 5th anniversary through various terrorist acts, while the Church is rumored to be eagerly anticipating its first Devival held in its home state Texas in over 5 years. Also, there have been reports to the effect that another Austin business, Steve Jackson Games, may be harboring matters of interest to the secretive SubGenius cult-like community, possibly to be revealed closer to the announced date of the event.
Officials from the Bureau of Alcohol, Tobacco and Firearms based in the Texas region have refused comment, but one undisclosed source close to the BATF claimed that the government had been tracking such Devival gatherings -- code words for what he termed as "Riotous Orgies" -- and will probably take the organizers into custody long before any such disturbance could actually be perpetrated.

Meanwhile, a State Department official noted, off-record, that the translation of the Spanish phrase "La Zona Rosa" meaning "Red Light District" would tend to corroborate the allegedly planned act. "We hear about these things happening," the official remarked, "and we oftentimes just don't have time to respond, let alone buy tickets." Tickets for the gathering are rumored to be about 5 bucks, and will be available at the door just prior to the show.
FringeWare and The Church of the SubGenius are known to have collaborated on the Survival Research Laboratories "show" held earlier this year in Austin, where 20 people were killed and 37 members of the audience were arrested in a brutal knifing incident which resulted from some of the show's "artistic" content.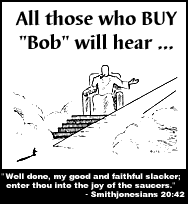 Both the Church, which has been featured in Playboy, Newsweek and Wired and some other little zines, and FringeWare, which has also been featured in Playboy, Newsweek and Wired and some other little zines, are widely known to engage is vociferous anti-authoritarian acts such as Devivals, where participants often become frenzied, shocked, and touched by the Words of their "god" J. R. "BOB" Dobbs, as they engage in acts including healings, sickenings, sacrifices, Public Confessionals, Short Duration Mass Marriages, Time Control Ceremonies, Record Burnings, and Head Launchings. Various bands and other performance artists are rumored to be ready to participate in this unwholesome miasma, including the Church's Sacred Scribe Reverand Ivan Stang, Rev. Nickie DeathChick, Dr. K'taden Legume, the Lord Jesus Christ as well as an array of local Austin subversives. Other potential acts, bands, strippers and other performers HAVE BEEN ENCOURAGED TO CONTACT FringeWare at the address listed below.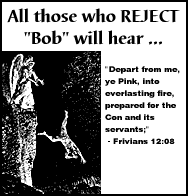 Local authorities in Austin noted dourly in the wake of today's press conference that the date of the potential mayhem nearly coincides with the local fraternity/sorority "Rush Week" held annually at the University of Texas at Austin and other area institutions. "We fear that these people are intending to hold some kind of unholy ritutual, under the guise of 'Rush For "BOB"'," said a member of the City of Austin planning commission, "and it's just a damn shame how criminals like this always prey upon our youth."
Jesus, the Church's business director, also said in a prepared statement today that He denies any conspiratorial or subversive plot that in any way is attempting to corrupt the youth or undermine and ridicule the authority of the One World Government, it's agents, or its prescribed religion. "There is no reason that any, good, law abiding, Christian, teenager should avoid coming to this inspirational event... and more especially those of the female gender." He also added, "The reports of the bloody head launchings have been greatly exaggerated"

Sordid details of a recent Devival, held in Atlanta this summer, and others can be found at:

Hidden under the heading NUDITYand DEVIVIALS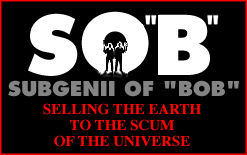 Additional information about the upcoming event may be obtained by watching these pages:

http://www.fringeware.com/hot/devival.html

Or calling the 24 Church Devival Hotline at (216)556-0338


Any press wishing to set up an interview with Rev. Stang should contact Jesus at the SubGenius Foundation by using the below number

FringeWare Inc.
2716 Guadalupe St
Austin TX 78705
+1 512 494 9273
+1 512 323 9798 fax
email@fringeware.com
http://www.fringeware.com/

Church of the SubGenius
PO Box 140306
Dallas TX 75214
+1 214 324 0993
slack@subgenius.com
http://www.subgenius.com/

La Zona Rosa
612 W 4th St
Austin TX 78701
+1 512 472 2293


Cult leaders Stang, Legume -- expose by Lt. Friday Jones, B.A.T.F.

ALL ARTWORK THIS PAGE: IRREV. FRIDAY JONES
Below: a photograph covertly snapped at the SubGenius's last so-called "X-Day Drill" shows a blasphemous burning cross. The man strapped to the cross is not visible in this picture. Thanks to "Popess Lilith" for the picture.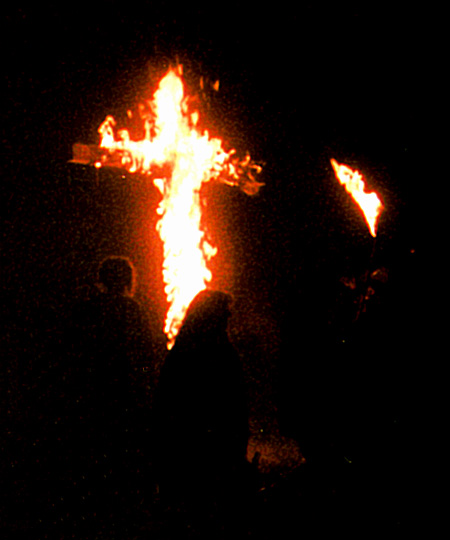 BACK TO UPCOMING DEVIVALS EAJOKEFUCKEMIFTHEYCANTTAKEAJOKEFUCKE
MIFTHEYCANTTAKEAJOKEFUCKEMIFTHEYCANT
TAKEAJOKEFUCKEMIFTHEYCANTTAKEAJOKEFU
CKEMIFTHEYCANTTAKEAJOKEFUCKEMIFTHEYC
ANTTAKEAJOKEFU