UFO Cult Invites Porn Stars to End of the World



1998 was X-Day...1999 was XX-day...
...but 2000 is XXX-DAY!!!

From: Modemac <modemac@modemac.com>
Date: Tue, Nov 23, 1999
J.R. "Bob" Dobbs and The Church of the SubGenius, the greatest of the thousand-and-one One True Religions infesting this planet (and certainly the weirdest), invites the members of alt.cult-movies.erotica, rec.arts.movies.erotica, rame.net, and all of the other other filthy, perverted, disgusting areas of the Internet to joins us in the first weekend in July for the BEST DAMN PARTY OF THE YEAR! This is the fifth year in a row that we've gathered together in Sherman, New York to celebrate the End of the World ...and each year has been BIGGER and BETTER than the last. Those of you who managed to survive the last four X-Day celebrations will certainly agree!
Our Church has truly evolved into a sex cult over the years, and the previous X-Day Drills have been non-stop feasts of nakedness and lewdity galore. But THIS time is something special -- it's XXX-Day! Our final days on this planet will be a PORNORELIGIOUS ORGY of RIGHTEOUS SEXHURT with OOZSQUIRT galore! And what better way to make XXX-Day a truly XXX-rated event than to invite PORN STARS to attend?
XXX-Day is NOT a corporate-financed, celeberity-driven "convention" taking place in a hotel, with $200 entrance fees where you get to sit at the back of a hall and look up at the "celebrities" on the stage. This event is a wild outdoors event taking place in upstate New York, where the only "celebrities" are the ones who get up and DO stuff: performing on stage, taking part in the audience participation, going out and meeting everyone, taking photos, jumping in t he hot tub, selling things, and having a GREAT time.

EVERYONE is a star at XXX-Day. We invite you to join us in July of 2000 and BE YOUR OWN PORN STAR!
At XXX-Day, there is no set schedule, and no one is "required" to do anything...not even the stage performers. When you take part in the festivities, there are only three things you are "required" to do:
1) Make the pilgrimage to Sherman, New York to take part in the
festivities and join the Church of the SubGenius.
2) Have a GREAT time frolicking in the sun for several days, doing
ANYTHING you want.
3) Be there at 7:00 AM on the morning of July 2, 2000, when the Escape
Saucers of the Sex Goddesses will arrive at last to Rupture up the true
believers -- or at least the ones who've paid their $30 Ordainment fee --
and spend the next ETERNITY in a non-s top pleasure orgy of SEXHURT!

We encourage ALL porn stars, wannabe porn stars, exhibitionists,
photographers, videographers, wankers, gawkers, and publishers to make
this a truly EROTIC, EAR-OTIC, and PHOTOGENIC event!
Bring musical instruments and perform onstage. Jump into the Hot Tub or
take a swim in the pool, and have your soul cleansed at the Naked
"Bob"-tism. Strut your stuff and participate in the BLOOD WRESTLING
events! Sell weird pornographic crap at the Bulldada Auction! Get onto
the radio and become your own DJ! Take lots of photos and videos! SELL
your own merchandise!
BE YOUR OWN PORN STAR -- and show 'em all what experiencing SUBGENIUS PORN
is like!
Lurkers and participants on rec.arts.movies.erotica: We want YOU!!!
The event takes place at Brushwood Folklore Center, a clothing-optional
outdoor campground in upstate New York, literally hundreds of miles from
any major city. This is why our X-Day celebrations have not been flooded
with thousands of weenie wimpy fanboys, and this is why you won't be
crowded by drooling fans. If you're brave enough to take a chance and try
something truly DIFFERENT, then come and join us!
--
First Online Church of "Bob"
http://www.modemac.com/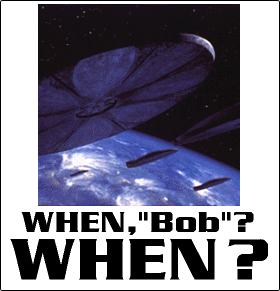 O Nenslo did that eye-n-dagger art there. Or Kill Me poster by CODINI. When "Bob" When was labeled by Rev. Jigah Frenzy.