BURN OUT MAN 2001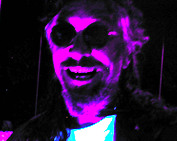 By REV. IVAN STANG
Sept. 6, 2001

My computer is fixed and I'm back from Burning Man! And I have TAKEN OFF MY SHOES!
AAAAhhhhhhhh!
My far-right-toe blister is FREE. I shall wear no shoes for a WEEK.
And yet... I already kind of MISS the smell of the DUST.
That's the first thing you notice when you get to Black Rock City, Nevada -- the dust. First it gets into your nose and then it gets into everything else. For most of the year, Black Rock City is not a city; it's nothing. Just dust. A perfectly flat expanse called a "Playa" (Spanish for "beach"). For it is an ancient lakebed, now only alkali dust cracked in an amazing psychedelic pattern for miles and miles in all directions. No rocks. No bushes. No bugs or snakes. No water, no GRAVEL even.
JUST FLATNESS, DUST, and SKY.
In the middle of nothing, ANYTHING AT ALL becomes pregnant with meaning. During the Burning Man festival, for one week, there are thousands of pregnant anythings.
Then, the Playa looks as if a spoiled child of Giants spilled his toy box all over the desert, and never picked up after himself... all these gigantic wind-up toys are strewn across the vast desert, some fallen over on their sides, some wobbling and marching.
There is absolutely NO WAY -- NONE -- to impart the sheer braintaking TOTAL MADNESS and BEAUTY that surrounds one from up high on the Man's pedestal, in the center of it all. You can sit directly under the Man's crotch and pan the horizon 360 degrees, and from that vantage point, the city made of carnivals that confronts you is certainly the most spectacular man-made sight that *my* brain can even begin to conceive of. In fact, so much human ingenuity and nuttiness is inconceivable until you've seen it. Pictures don't do it any kind of justice. It's moot whether or not you believe me, because even if you do believe me, you still can't grok it unless you're standing right there in the middle of it all, your lower jaw scraping the ground as you shuffle stunned and agog through A LIVING WARNER BROTHERS CARTOON.
And then, if you go way far out there on the perimeter, away from the city and the plain of artworks, where there is NOTHING but PLAYA (and I do mean nothing)... AHHH. THAT too is sublime, in contrast. Especially if you happen to be relaxing on one of the couches on Pepper Mousers's Motorized Living Room, going about 40 miles an hour, with the stereo blasting, at NIGHT, sipping a margarita, in the middle of nowhere, nothing for the Mobile Living Room's headlights to light up except the pure flatness ahead.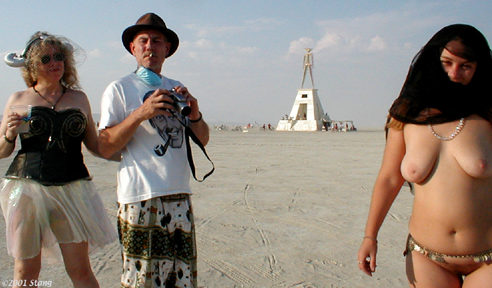 The contrasts are DELICIOUS. You can stand on a corner that looks like an old Western ghost town, but with Arabian caravans traversing the dusty streets, and if you go into one of the saloons, suddenly you're in the year 2525 in some bizarre high tech holovision light sensorium; then you stumble back out onto the Felliniesque desert, where a Flintstones car zooms by driven by spacemen on one side, while a Jetsons car driven by cave women zooms by on the other.
Why do people go to Burning Man? TO BE AS WEIRD AS THEY POSSIBLY CAN. And there is some STIFF COMPETITION in weirdness out there, oh my droogies.
Some people think of Burning Man as being nothing but rich kids in blue body paint. Actually a lot of Black Rock City denizens are bikers, oddball mechanics, hot rodders, robot wranglers, and other roughnecks. Some are snotty nosed teenagers whining for Mommy. But most of them are artists of some kind or another, mostly the amateur or SubGeniuslike kind, who don't do it for anyone but themselves and their buddies, or, in this case, for whoever can hack the dust for a few days.
It is the Fashion Show of Madmen. Indeed, there is a yearly Burning Man Fashion Show, sponsored by the madwomen Annie, Frannie and Nic, with SubGenius Patriarch Dr. Howll and the lovely Connie Champagne as M.C.s. Their camp, and that of Mecha Shiva, as well as the Worthless Pile of Shit Camp, were associated with ours: "Bob" and Philo's Badfilm Fun Hole Theater. Dr. Philo Drummond erected a full half scale drive in movie screen, upon which he projected various sacred badfilm from our collections (including those recently donated by Nu-Monet for auction), along with the ultimate collage of all badfilm, "OR KILL ME" by Puzzling Evidence.
It is because of the leadership and guidance of Puzzling Evidence, disguised as Ranger Coyote of the famous Black Rock City Rangers, that the SubGenii are able to enjoy Burning Man and reap so many of its benefits. His radio partner Dr. Howll is also a Burning Man "fixture," having participated in not only the Fashion Show for many years, but also in so many hideous sideshow extravaganzas of disgust produced with Chicken John.
Also joining us were Rev. Sven Serrano, Shining Path of Least Resistance, and none other than Saint Michael Peppe himself, "Me-kill Papa," "Mucous PooPoo," the world's only good performance artist.
We ran into Subs from X-Day, Subs from the Amsterdam Field Trip, sexy Sub babes we only see at Burning Man, Subs we'd never met before, new Subs, old doddering prattling Subs, good SubGeniuses and Bad SubGenii. Our sacred rented RV., and our T-shirts, were plastered with the wonderful Dobbshead/Burning Man logos created by various alt.binaries.slack artists, so anyone who wandered by Sex Drive and 3:30 would spot our mini-Dobbstown.
We met the BlLnKiNgMaN.com crew, who had an interactive talking Jack Webb that would interrogate you about your drug use, until they burned it. And we met... ANGELS.
Princess Wei and I had been trudging from spectacle to spectacle for HOURS... the sun was going down but we were dreadfully thirsty, far from camp and out canteens were dry. Our legs hurt and Slack was evaporating... when suddenly, right before us appeared a HEAVENLY CLOUD ON WHEELS! A cloud, I tell you! With harp music. And from the cloud emerged ANGELS. Beautiful angels, with pure white wings, and pure white miniskirts. They let us each pluck a feather from their wings, and our Slack was magically restored to us.
So many times one would start to feel discouragement due to the sheer hardship of the environment, when suddenly from nowhere would shower rain, or Slack, or beer, or light, or nubility... like an endless parade of ShorDurPerSavs.
I did have one moment of BAD VIBES: The Sudden Music Video Shoot. We wandered into an extremely atypical situation for Burning Man, an elaborate music video shoot. The Twin Nixons (2 performance artists in Nixon masks) danced before a projection of grim images while a Negress Giantess in a mirrored outfit lip-synced to a remix of the Stevie Wonder song, "Living Just Enough for the City" or whatever the actual title is. Extras wearing rubber masks of U.S. presidents gyrated on another platform. The Devil was there, I saw him, he looked just like the richest, meanest Pink Boy in the world, with a bunch of very very rich Continentals and decadent jet setters surrounding him. I SENSED EVIL... like when I enter some churches and country clubs.
At the end of the single "take," the main camera man swung around and shot the crowd of dancing bystanders, which included Princess Wei and myself, so who knows, maybe we'll be watching MTV some night and glimpse ourselves at Burning Man. But I seriously doubt it.
Another very peculiar moment: one sunset, as we approaching the Man from a distance, we discovered a classic hippie "Magic Bus" parked before it, blasting out a recording of The Beatles' "Let It Be," while slides of FLOWERS were projected in rotating mandalas upon the Man's huge pedestal... which was covered with lolling hippies with flowers in their hair, and bell bottoms... I thought, "WHAT THE *FUCK*...? You GOTTA be kidding me." But a little while later it was "Dark Side of the Moon" and DEVO-like youth running around with rayguns playing some paintball like game.
When the Man burned late Saturday night... well... the fireworks were great but there was a natural phenomenon that we were all lucky to witness. A series of seemingly planned (but totally accidental) dust devils rose from the Man's pyre, hundreds of feet high, a parade of 7 or 8 of them one after another, like skinny tornadoes emerging from the Pit of Hell, and these Djinn trotted across the safety zone to the very crowd itself, probably scaring the bee-jeezis out of hundreds of acid-dented Burners.
Later on that night, WEI AND I GOT TO MAN THE FLAME-BELCHING, DANGEROUS PROPANE CANNONS OF THE TANK-LIKE ANTIPOPEMOBILE, WHILE ITS INVENTOR, THE MAD ARGENTINEAN, "MONKEY BOY" RAOUL, TRIPPING AND DRUNK, DROVE IT MADLY ACROSS THE CROWDED PLAYA AND THE RESIDENTIAL STREETS OF BLACK ROCK CITY -- TO FETCH DOBBSHEADS FROM OUR CAMP!! "FIRE SWITCH NUMBER ONE!" he would shout when drunken cavorters blocked our way, and I would let loose an A-bomb like blast of orange fireballs. AHHH, THE POWAH!!! THE VAST MAD POWAH!!!
MICHAEL PEPPE! When I reran the Peppe-special Hour of Slack #114 as #800 recently, I had no idea that Michael Peppe would be in our expedition. All the damage he did to the RV was well worth the amazing recordings that Wellman and I got of Peppe standing in his underwear in the middle of a Burning Man intersection on the last day, spontaneously ranting about Slack and pussy. (Heard on Hour of Slack #802.)
On Friday afternoon, anyone near "town" was treated to THOUSANDS of BARE BREASTED FEMALES, IN A BICYCLE PARADE CALLED "CRITICAL TITS"! Actually the thousands of pairs of jouncers sported PAINT JOBS and other decorations. Like endless jiggling Christmas trees of titty. I am told that the women find this "empowering," and I suppose that I found it so too, myself.
5 STORY HIGH MARTIAN CREATURES!
SALVADOR DALI PAINTINGS BROUGHT TO LIFE!
MORE "SATYRICON" THAN "SATYRICON"!!
We dared enter the most GORGEOUS accident waiting to happen, the Giant Mushroom by the Emerald City, which had a door at the bottom, a spiral staircase running up the stem, and a pleasure dome at the top crammed with hooch-sipping sophisticatos and gaping Art Rednecks like ourselves.
The Emerald City... this had a POWERFUL bright green laser on it which projected patterns on the nearby Black Rock MOUNTAINSIDE, also lighting up the dust and smoke of the near atmosphere so that the night sky was almost always decorated with a green "aurora borealis" only a few hundred feet overhead.
Another bigger than real "light show" happened just before the big burn, when HUNDREDS -- not dozens, but HUNDREDS -- of "fire twirlers" all performed and gyrated and juggled at once, forming a huge flaming circle of nakedity around the Man.
In the heat of day, tanker trucks would trundle along the "suburban" streets spraying water from the back, followed by bands of naked hipsters and youths, taking terribly needed baths while skipping gleefully behind..
What does all this happy sappy shit have to do with DOBBS, you ask?
It has to do with SLACK. SLACK is the only "pay" at Burning Man, the primary medium of exchange. Most of them just don't know that WORD for it yet. Or they have their own word. This is Cacophony Society country, remember. A lot of them are the Already Saved that we don't need to preach to (only to SELL to), and a lot of them we CAN'T save because they're Pink and destined to die on X-Day no matter what.
Nonetheless, BM is almost like a preview of the REAL X-Day!... or "PEE-view," as the case may be, dehydration-wise. The hundreds of elaborate and highly original theme camps are almost like personal Pleasure Saucers. (Many actually look just like flying saucers from the outside... and some are much larger inside than they are outside, like the Circus of Dr. Lao.) Get a load of this tiny sampling of the theme camp, machine, and object d'art NAMES: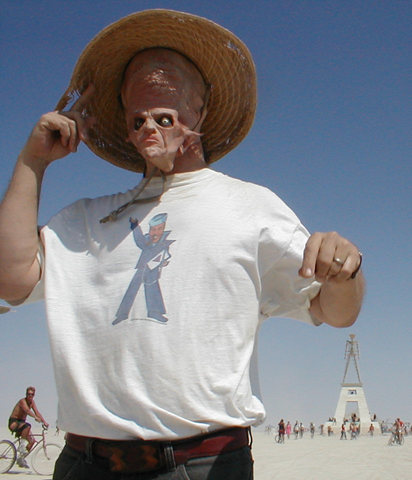 Bookmobile of the Wasteland
Psychedelic Inconvenience Store
Acid Cabaret
Action Figure Camp
Alien Love nest
The aMAZEing E-Vening Lounge
Anonymous Camp
EUPHOR!UM
Are Deranged
The Artery
Astral Headwash
"Aye, Do!"
Bad Idea Theater
Barbie Death camp and Wine Bistro
Barnum and Burnum Circus
BigAssCandle
Booty Checkpoint #11
Bowlvolutionary camp
Burning Scouts of America
Camp Chaos
Camp FUCK
Camp Lost In Space
Camp Name Subject to Change
Camp Plaster caster
Camp Pretty Shinee
Camp Skynyrd
Camp Wrong
Chupacabra Policia
The Coagulators
Costco Soulmate Trading Outlet
Crackout in the Womb
CROSS Dress for Less
Death Guild/Thunderdome Ghetto
Dept. of Public Miracles
Disco Headhunters
DisGraceland
Disturbia
Dept. of Mutant Vehicles
The Dododen
Dysfunctional family Camp
Elvis Yoga
Enlightentrapment
Entropolis
Evoloverse
EyE of the PlayA
Flipsville
The Gates of Nothing
Gigsville
Gnomefatty
Good Vibes... or Bad?
Hair of the Dog Lounge
Happyland
Hookahdome
House of Indulgence
Hymen Effigy Clergy
Ignited Parcel Service
Illuminaughty
Immolation Monk
Infernal Noise Desert Outpost
Irrational Geographic Society
Kult Camp
Ltex Luv from the Aliens Abuve
Liars Camp
Lonertown
Lorax Camp
Lustmonkeys at the Vibe Hive
M*A*S*H*cara
Magic Fingers Motelopolis
Malpractice Camp
The Mind Shaft
Mobile Tiki Hut Camp
Moisteria
Mystic Krewe of Satyrs
Neo Hippie Revolution
Nipple Clamp Camp
No Vacancy
NoNo the Naughty Naked Ape
The Oasis of Insanity
Palookaville
Pamper Camp
PeePot Camp
Piss Clear
Pleasure Pigpen
Porno Lanes Family Fun Center
Pyromid
Reality Refugee Camp
The Reincarnation Location
Restaurant at the End of the Playa
Roasted Peeps on a Stick
Sacred Love Womb Garden
Safer Sex Camp
Techno Boogeymen
Dr. Megavolt
Some Place
Space Vikings
Spock Mountain Research Labs
Starlust Lounge
Temple of Necronomiclown
Temple of Waterboy
The Tittyman
Technofartz Camp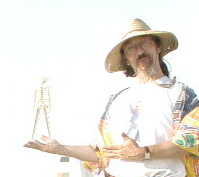 ... well, that gets us through the Ts and my neck is tired.
LAST YEAR'S BURNING MAN report and Photos
---
BACK TO UPCOMING DEVIVALS
---